Toyota Land Cruiser

Service Manual

Air conditioning » Front A/C evaporator

Disassembly
1. PULL OUT EVAPORATOR TEMPERATURE SENSOR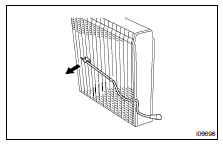 2. REMOVE EXPANSION VALVE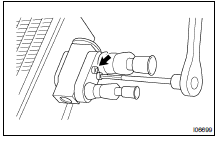 Using a hexagon wrench (5.0mm, 0.20 in.), remove the 2 bolts and separate the expansion valve and the evaporator.
Torque: 3.4 N·m (35 kgf·cm, 30 in.·lbf)
NOTICE: Cap the open fittings immediately to keep moisture or dirt out of the system.
HINT: At the time of reassembly, lubricate 4 new O-rings with compressor oil and install them to the valve. If evaporator is replaced, add compressor oil to the evaporator.
Add: 40 cc (1.4 fl.oz.) Compressor oil: ND-OIL8 or equivalent
More about «Front A/C evaporator»:
Disassembly