Toyota Land Cruiser

Service Manual

Engine Mechanical » Cylinder head

Disassembly
1. REMOVE VALVE LIFTERS AND SHIMS
HINT: Arrange the valve lifters and the shims in correct order.
2. REMOVE VALVES
(a) Using SST, compress the valve spring and remove the 2 keepers.
SST 09202-70020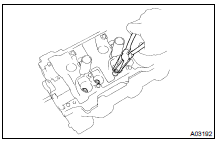 (b) Remove the spring retainer.
(c) Remove the valve spring.
(d) Remove the valve.
(e) Remove the spring seat.
HINT: Arrange the valves, the valve springs, the spring seats and the spring retainers incorrect order.
(f) Using needle-nose pliers, remove the oil seal.
More about «Cylinder head»:
Disassembly