Toyota Land Cruiser

Service Manual

Body Mechanical » Upper back door

Adjustment
1. ADJUST DOOR IN LEFT/RIGHT AND VERTICAL DIRECTIONS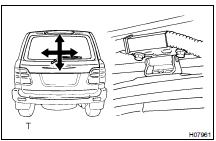 Loosen the door side hinge bolts to adjust.
Torque: 28 N·m (286 kgf·cm, 21 ft·lbf)
2. ADJUST DOOR IN FORWARD/REARWARD AND VERTICAL DIRECTIONS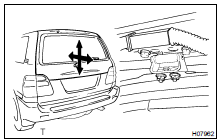 Loosen the body side hinge nuts to adjust.
Torque: 31 N·m (316 kgf·cm, 23 ft·lbf)
3. ADJUST DOOR LOCK STRIKER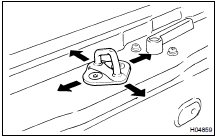 (a) Check that the door fit and door linkages are adjusted correctly.
(b) Using a torx wrench, loosen the door lock striker mounting screws.
Torx wrench: T40 (Part No. 09042-00020 or locally manufactured tool)
Torque: 11.5 N·m (117 kgf·cm, 8 ft·lbf)
(c) Using a plastic hammer, tap the door lock striker to adjust
4. ADJUST LOWER STOPPER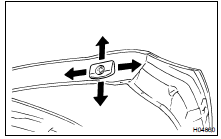 (a) Loosen the stopper mounting bolt to adjust.
(b) Use the same manner described above to the other side.
COMPONENTS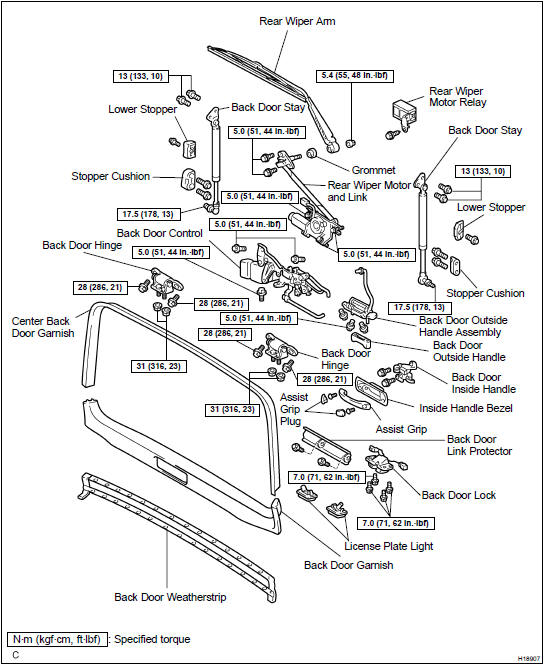 More about «Upper back door»:
Adjustment