Toyota Land Cruiser

Service Manual

Body Mechanical » Lower back door

Adjustment
1. ADJUST DOOR IN FORWARD/REARWARD AND VERTICAL DIRECTIONS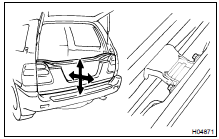 Loosen the door side hinge bolts to adjust.
Torque: 28 N·m (286 kgf·cm, 21 ft·lbf)
2. ADJUST DOOR IN LEFT/RIGHT AND VERTICAL DIRECTIONS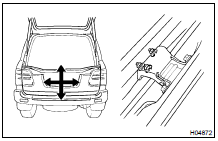 Loosen the body side hinge bolts and nut to adjust.
Torque: 31 N·m (316 kgf·cm, 23 ft·lbf)
3. ADJUST DOOR LOCK STRIKER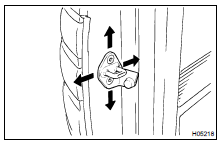 (a) Check that the door fit and door linkages are adjusted correctly.
(b) Using a torx wrench, loosen the door lock striker mounting screws.
Torx wrench: T40 (Part No. 09042-00020 or locally manufactured tool)
Torque: 11.5 N·m (117 kgf·cm, 8 ft·lbf)
(c) Using a plastic hammer, tap the striker to adjust it.
COMPONENTS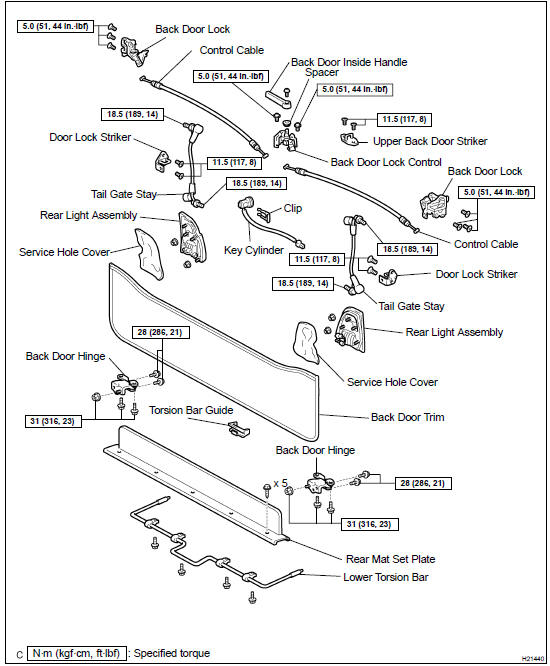 More about «Lower back door»:
Adjustment